Feb 25
Organization Spotlight: ACES HIGH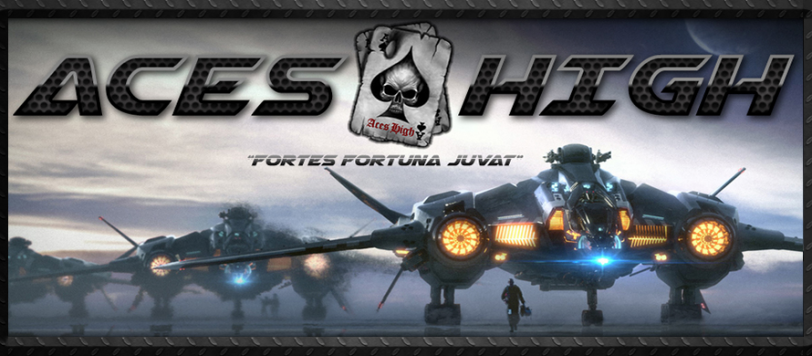 For this Organization Spotlight, INN is excited to introduce ACES HIGH ~ Up With The Irons (ACESHI). Organizations in Star Citizen are very important structures for the community and game. Finding the right organization (or clan/guild) for any game is import. I had the honor to speak with Breezy1, the founder and Commanding Officer of ACES HIGH, about her organization. Enjoy this closer look.
Getting to know ACES HIGH
I think the phrase that best describes ACES HIGH is "cooperative mentality." In everything the organization desires to accomplish that approach is quite evident.  Since its genesis in Star Citizen, through its current Alpha testing, and certainly into the game's release, being supportive and cooperative are the keys to success in this organization. By the details, ACESHI is a Private Military Company (PMC) seeking a large membership of 1,000 players. This threshold, they believe, will provide the active player base needed to maintain large operations. The three main activity priorities for the organization will be in the areas of Security, Exploration, and Logistics. Greater details of those activities are well-explained in the ACESHI 'Manifesto' on the RSI site. ACESHI is not a role-play organization, but members will not be discouraged from RP as long as it fits with the group's goals and objectives.
ACES HIGH is a tight knit, family-oriented, exclusive organization based in the United States. The primary language of the group is English, but its membership of nearly 500 people is spread across the world.  Through communication and coordination, every member is trained and mentored to be the best pilot they can be (and then just a little better!). Accurately so, ACES HIGH is defined as a hardcore organization. Leadership wants every member of ACESHI to excel above others at whatever non-criminal career path they chose within the 'Verse.
"In Life, there are Wolves, Sheep, and Sheep Dogs. We are the Sheep Dogs…"
Then and Now
ACES HIGH (ACESHI) was originally founded in 2011 during the closed BETA of World of Tanks.  The group is very focused on Star Citizen, but does play other games together — as members wait patiently for 3.0 and new game mechanics. ACESHI maintains a Wargaming.net 'clan' for World of Warships, Tanks, and Warplanes. They maintain a Battalion within Armored Warfare and many members are now playing Hellion.
When Star Citizen launches, ACES HIGH will do everything it can to become a self-sufficient organization. In fact, attaining and maintaining self-sufficiency is a core directive.  Multiple inner-org disciplines will coordinate to provide needed resources, finances, and protection that every member needs to succeed. Members of ACESHI will explore together, learn together, fight together, and earn together. This is the ACES HIGH 'cooperative mentality' in action as they pursue a mission of self-sufficiency.
Star Citizen will become the most prolific Space Sim/Sandbox/MMO of all time, well, in my humble opinion. Individually and as an organization, we cheer lead for CIG everyday. Simply put, we want to attract members who are passionate about the project. ~ Breezy1
Making The Game Great
Dedicated members in organizations like ACES HIGH make Star Citizen better for everyone. ACESHI is HUGE on testing and feedback! The organization currently has twenty-six Evocati Testers within its ranks. As far as this writer knows, that is more than any other organization. Regardless of what organization has more Evocati testers, this high number is complimentary evidence of the activity, dedication, and engagement this group maintains in-game. ACESHI members practice in Arena Commander and Star Marine daily, reporting bugs along the way.
Interested in Learning More?
The following people are the primary information/recruiting points of contact – across time zones – for ACESHI: Enceladus-83(NA), Breezy1(NA), Aklidien(NA), Kal-Nor(EU), and Tool(AUS). Feel free to contact them directly with any questions you may have. To start the joining process, a person must apply/join on the ACESHI organization page and type: "I am a Nerd! May I join you?" ACES HIGH requires that their organization be set as the Main Organization. Further, information about this process can be discussed directly with a group representative. Good luck and thanks for reading.
Important Links
RSI Organization Page
Website (Register with RSI Handle)
Teamspeak (Sign in with RSI Handle)
Discord Channel
YouTube Channel
Twitch Channel